Spectra Glass & Zoom Win Honorable Mention!
Created on: Friday, August 28 2015 | Comments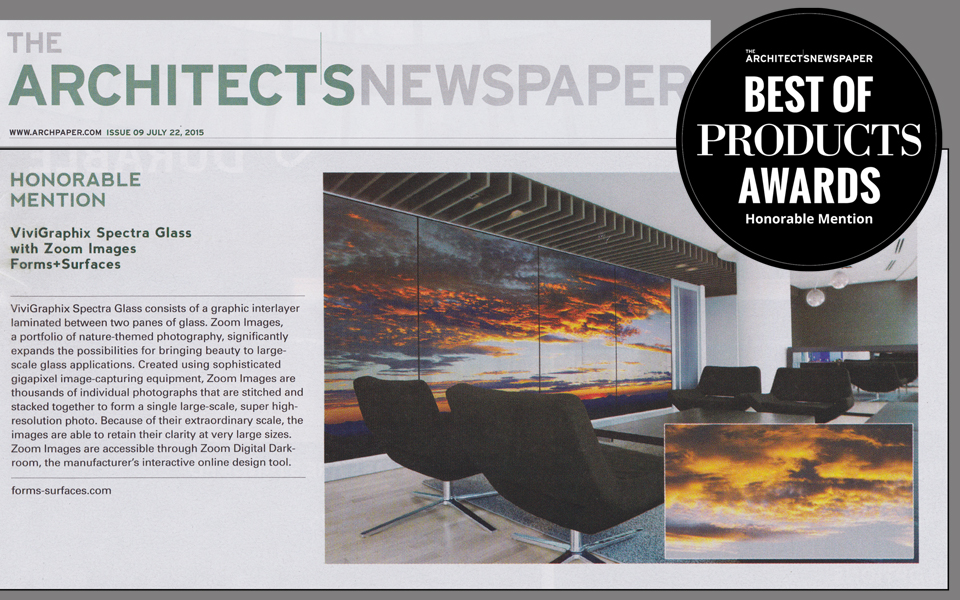 When The Architect's Newspaper announced its first-ever "Best of Products" competition, we saw the potential in our latest interactive design tool – Zoom Digital Darkroom.
The 2015 Best of Products Awards encompassed eight categories, for which the publication received nearly 400 submissions. Entries were evaluated for innovation, aesthetics, performance and value.
ViviSpectra Glass with Zoom Images was one of two honorable mentions in the "Finishes + Surfaces" product segment. We were thrilled with the recognition - especially this early in the life of the Zoom program.
Winners were announced in the July 22, 2015 print edition of The Architect's Newspaper. You'll find us honorably mentioned on page 47, and on the publication's blog, in the Awards > Finishes +Surfaces section.
To learn more about the F+S Systems designed to incorporate ViviSpectra glass with Zoom images, contact us or head to the F+S website.